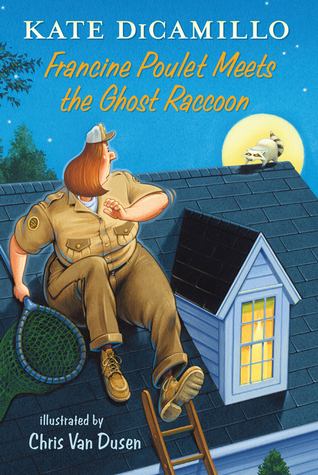 Francine Poulet is the greatest Animal Control Officer in Gizzford County. She hails from a long line of Animal Control Officers. She's battled snakes, outwitted squirrels, and stared down a bear. "The genuine article," Francine's dad always called her. She is never scared—until, that is, she's faced with a screaming raccoon that may or may not be a ghost. (goodreads summary)
Francine is definitely confident in her ability as the local Animal Control Officer. Until one evening, she meets her match with a loud and very scary raccoon residing on Mrs. Bissinger's roof. While trying to catch the ghostly critter, the altercation truly scares her and after falling ends up in the hospital with a broken arm and leg. She thinks she has failed and is just not cut out to be the Animal Control Officer anymore and decides to quit the job. Afterwards, Francine meets a neighborhood boy named Frank, who is just what she needs to help build her up again, getting her back on her feet and return to the job she was made for.
If your young reader is already familiar with Deckawoo Drive, this is the second book in the series. By recognizing characters from the author's other books, the emerging reader will make many connections. It also has some wonderful vocabulary words for kids to make note of and look up if they don't know the meaning. I love that the words always flow easily and nicely in any Kate DiCamillo books. The illustrations help break the chapters up with their wit and humor. Frank's encouragement of Francine to remember who she was and go out and get that raccoon was heart-warming. The two characters together made a terrific team. This was a fast-paced and funny early chapter book that will keep kids engaged until the end. I think this is a "just right book" for ages 7-8.~
Title: Francine Poulet Meets the Ghost Raccoon
Author: Kate DiCamillo, illustrated by Chris Van Dusen
Pub. Date: August 2015, Candlewick Press
Genre: early chapter book
Hardcover, 91 pgs.