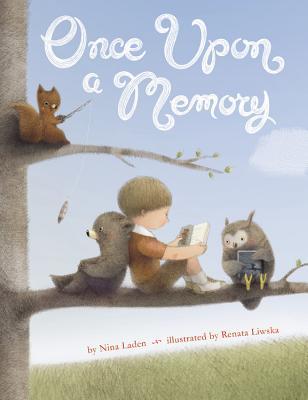 When a feather drifts through a child's window, a magical journey begins. As the boy follows the feather, he is swept away to a world filled with adorable animals, where fantasy and reality come together in surprising and playful ways. From the cake that once was grain to the ocean that once was rain, whimsical "before" and "after" scenes offer readers a peek at the world as seen through the eyes of a curious child, asking "What will you remember?"
When I finished reading this gentle story, I stopped for a moment or two just to reflect back on the text and pictures again. The combination of words and serene illustrations give it a sleepy, dreamy feeling that will help wind you down from an active day. The rhyming text is simple but so meaningful when read at a slow pace, which is great at bedtime. The illustrations are done by one of my favorites, Renata Liwska, who is so captivating and pulls me into the story by her drawings every time. She has a way with the animals expression that give them a lifelike quality. The last page offers a look at some favorite memories from the author and illustrator that will open conversation about remembering some of your favorite things. There is just something about this sweet quiet book that I know will be a favorite in my memory. I think this is a "just right book" for ages 2-7.~
Title: Once Upon a Memory
Author: Nina Laden, illustrated by Renata Liwska
Pub. Date: December 2013, Little, Brown Books for Young Readers
Genre: picture book
Hardcover, 40 pgs.
You may also like:
The Quiet Book by Renata Liwska The Loud Book by Renata Liwska