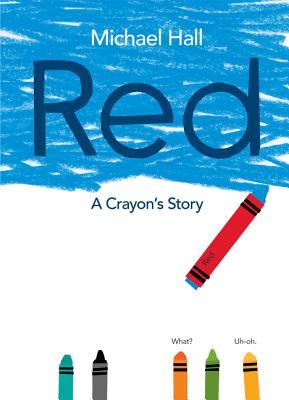 Red has a bright red label, but he is, in fact, blue. His teacher tries to help him be red (let's draw strawberries!), his mother tries to help him be red by sending him out on a playdate with a yellow classmate (go draw a nice orange!), and the scissors try to help him be red by snipping his label so that he has room to breathe. But Red is miserable. He just can't be red, no matter how hard he tries!(goodreads summary)
Although Red crayon's label says red, he is definitely not. No matter how hard he tries, even with the help of family and friends, he is the color blue. Then one day, he meets a new friend who asks if he would color the ocean for his boat he is making. After that moment things change for Red as he finally learns he can reach his full potential by just being himself.
This book reminds me of the saying "you can't fit a square peg in a round hole". It offers a wonderful message about seeing past the label and finding your true self....no matter how hard others want you to be something you are not. Even though Red had the help of his teacher, family and friends, he just could not be forced into something he wasn't. He definitely wanted to please everyone by trying hard but it ends with a very good lesson about acceptance. The story is well written and definitely thought provoking. Great illustrations with bold colors, simple text and a happy ending for Red who learns his true self is amazing! I think this is a "just right book" for ages 4-7.~
Title: Red A Crayon's Story
Author: Michael Hall
Pub. Date: February 2015, Greenwillow Books
Genre: picture book
Hardcover, 40 pgs.