We cannot leave out the middle grade and young adult readers out there who love a good book to curl up with on a cold Halloween weekend. Here are just a few that I enjoyed and found spooky enough that will add to the chill. This is just a tidbit of a description; but you can click on the link to find my full reviews.
Happy Halloween......................
A Curious Tale of the In-Between
is one of those stories that will leave you with that spooky feeling. Eleven year old Pram has the unique ability to see and talk to ghosts. Her aunts feel she needs to be among other children her own age and decide to send her to school. She meets a boy named Clarence who takes her to a spiritualist with the hope of helping her find answers to questions they both have about past people in their lives; unaware the Lady Savant has some strange plans of her own. This was a fast-paced middle grade read by a wonderful author. I found myself not wanting to put it down. I think this is a "just right book" for ages 11 (mature 11) and up.~
Title: A Curious Tale of the In-Between
Author: Lauren DeStefano
Pub. Date: September 2015, Bloomsbury USA
The Ghost of Crutchfield Hall will give kids spine tingling shivers. It had many exciting thrills for such a short story and I enjoyed this classic styled ghost tale. The words and characters had a wonderful 19th Century English feel to it and I loved the many references of classic book titles and authors. When Florence encounters Sophia's ghost, it is evident that she was not only nasty in life but it carried over to her afterlife with a vengeance. I know that I really enjoyed this book a while back and think it is a "just right book" for ages 10 and up.~
Title: The Ghost of Crutchfield Hall
Author: Mary Hahn Downing
Pub. Date: September 2010, Clarion Books
Cryer's Cross
was a very unusual story with many eerie elements to it. The main character was a teenage girl named Kendall who had
OCD, a best friend who wasn't sure if he was a boyfriend, a new guy that was hard to connect to, the mystery of missing teenagers, a little bit of romance, adults with secret pasts and some supernatural elements. It had a lot packed into this fast paced, easy-to-read book. I found myself reading it in one day because I was determined to find out what was with the creepy desk? I have been meaning to find some other books by this author to read. I think this is a "just right book" for ages 14 and up.~
Title: Cryer's Cross
Author: Lisa McMann
Pub. Date: February 2011, Simon Pulse
I thought the cover of The Revenant was very striking and definitely caught my eye. I was glad that I found it because it turned out to be a really good book. This was a simple but chilling historical ghost story that was filled with mystery, murder, plenty of secrets, romance and of course, suspense. It had many twists and turns that were unexpected. Just when I thought I had it figured out, I was pleasantly surprised by another outcome. I think this is a "just right book" for ages 15 and up.~
Title: The Revenant
Author: Sonia Gensler
Pub. Date: June 2011, Knopf Books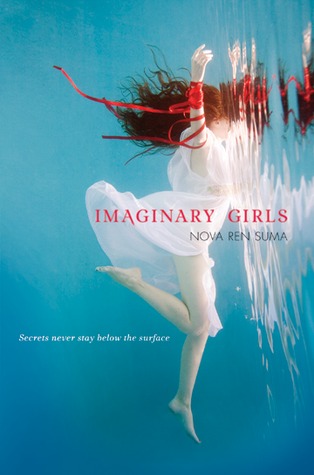 Imaginary Girls
was another beautiful cover but I had a tough time getting into this one. Once I started reading more, I then realized that it was turning out better than I first thought.
I picked up on the beautiful writing talents of the author and ended up surprisingly captivated by this supernatural story after all. I found myself eager to read into the next chapter to see what was going to happen. I was glad that I gave it a chance before abandoning it. I think this is a "just right book" for ages 16 and up.~
Title: Imaginary Girls
Author: Nova Ren Suma
Pub. Date: June 2011, Dutton Juvenile